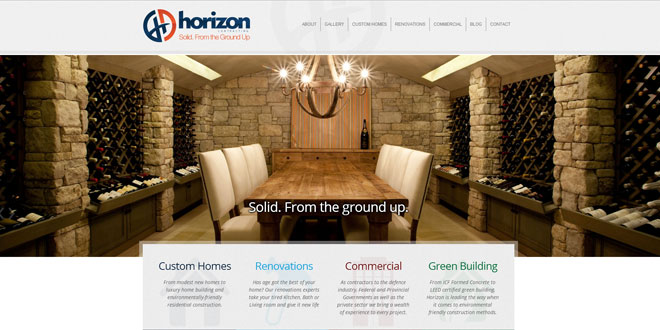 Horizon Contracting website and re-branding
Over the past few months we have been working diligently on an overhaul of the Horizon Contracting website, signage, logo and a complete re-brand. All the hard work is showcased in the detail and care that went into producing the content for this website. Horizon Contracting is one of the finest custom home builders in victoria.
The Challenge: Keeping things simple and engaging potential clients
When we started this website project, we started with a case study on the Horizon brand. Through our partnership with McNamara Communications, we set up meetings with past and current Horizon customers. We wanted to understand in depth how Horizon's customers had gone through the process, and what made them unique when building their custom home. We used this experiences and customer storys to help develop the content and processes for the website.
The Design: Take something complex, make it simple!
Working with Tim from Horizon, he challenged us to find a way to clearly explain the Horizon custom home building process, while keeping it simple. We needed a way to keep clients engaged in the content, while still explaining the benefits and advantages to building your home with Horizon. The result was using an image and tagline pairing. We wanted the content and headline to align with the image. Capture clients attention with bold images, and transition into the content. Through out the site, we've used a mixture of different messages. From funny and low-key images, to conceptual and rendered.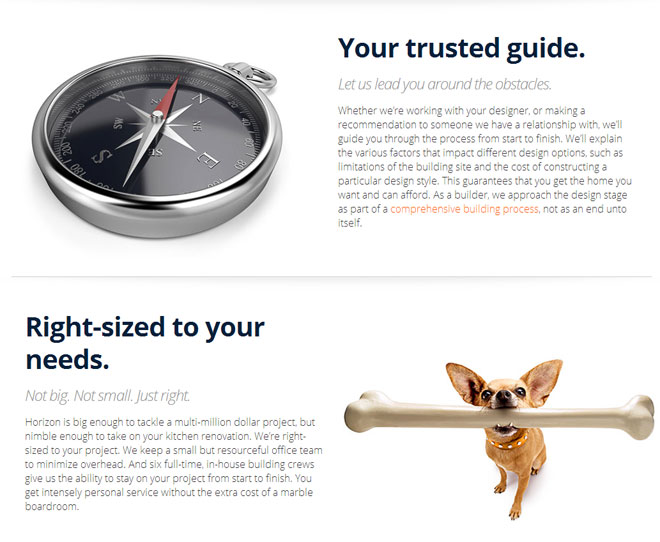 From the digital landscape to real
When developing the color schemes and logos for this brand, we also needed to construct signage that would stand out and capture the minds of passers-by. We developed signs that would be used in difference circumstances. Depending on the size of the project, either a temporary movable sign would be used, or for large projects the mounted semi-permanent signs would be used.