Website Development Portfolio – Our latest work
A great website is about more than just looking pretty. After all, what good is a website unless it's actually generating quality leads, new business or helping spread your vision? Feeling Inspired? Let's talk. Take a look at some of our most recent websites
Flintstones Masonry
Flintstones has quickly become one of Victoria's largest masonry, landscaping & home improvement companies in a relatively short time. We have been working with Mike and his team since 2007 to develop his website, vehicle wraps, branding and various other aspects of his marketing. This website comes in at 66 pages, with a HUGE amount of content. We were tasked with finding an efficient way of organizing all of his content in a user friendly and SEO friendly manor. We also worked closely with Tom from McNamara communications in developing a site map and content. Key solutions & Product Features:
Unique page headers for each service / gallery
Picture sliders for each service / gallery /
Mobile Version for iPhones, IPads, etc (coming shortly)
WordPress Based CMS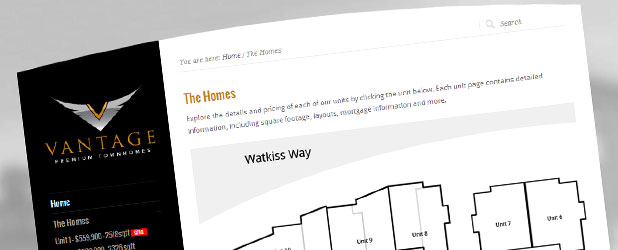 Vantage Premium Townhomes
We developed this website for the team responsible for marketing the Vantage Premium Townhome development being built at the intersection of Watkiss & Burnside Road. We adopted a unique and appealing design to compliment the West Coast contemporary design the Vantage Development utilizes. Key solutions & Product Features:
360 Degree tour of the development
Birds eye view Development rollovers
Ease of use to get to all site plans
WordPress Based CMS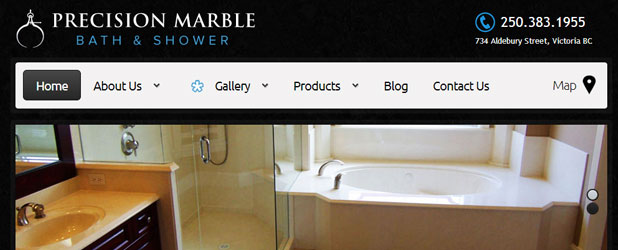 Precision Marble
Precision Marble is Victoria's leading company on creating and installing cultured marble. Chris and his team provide their customers with high quality cultured marble showers, baths, vanities, kitchen counter tops and so much more. Key solutions & Product Features:
Multiple Picture Galleries
Large front page slider
Collapsible Style / Feature lists
WordPress Based CMS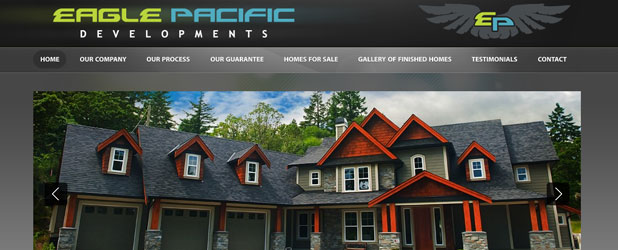 Eagle Pacific Developments
Martin and his team at Eagle Pacific Developments have been designing, building and constructing custom homes for over 20 years. Martin's dedication to quality has helped him cement himself as one of Victoria's premier custom home builders. Eagle Pacific Developments has also been responsible for a number of larger community developments through out greater Victoria. Key solutions and project features include:
Display gallery of Custom Homes & Projects
Floor plan and development videos
WordPress based CMS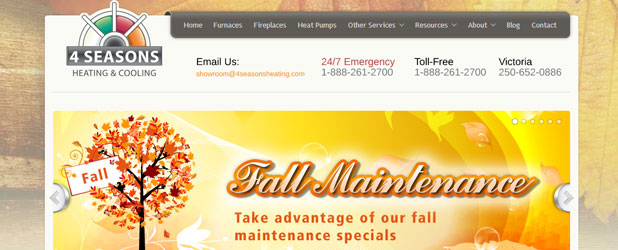 4 Seasons Heating & Cooling
4 Seasons Heating & Cooling is Victoria's largest HVAC contractor, and recently (2011) was awarded the BBB torch award for Installation, Service & Repairs. We worked closely with our partner Tom at McNamara Communications in developing a content strategy and SEO profile for 4 seasons. Some key features and project functionality include:
Fully developed SEO and Content Strategy
Background of website changes depending on the season
Social Media Integration
Large front page slider promoting seasonal services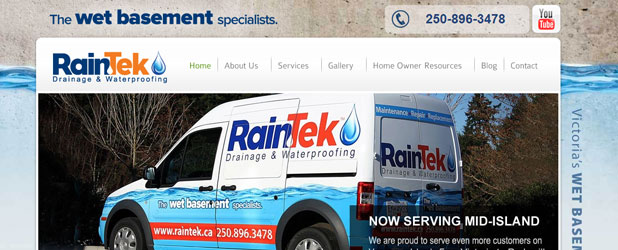 Raintek Waterproofing
Raintek is Victoria's largest waterproofing and drainage company. Collaborating with Tom from McNamara Communications, we developed a strong SEO profile and content strategy for Geoff and his ever growing team. Key project features include:
SPAM free contact form
Dynamic frontpage slider
Functional gallery to display wide range of images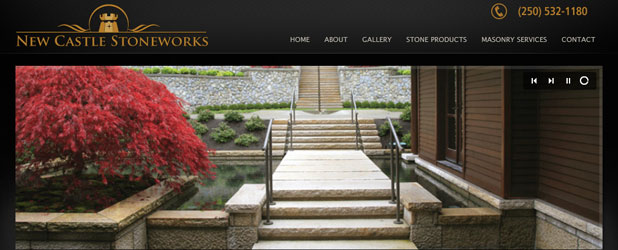 New Castle Stoneworks
New Castle Stoneworks is one of Canada's largest installers, creators and designers of custom stonework. New Castle is behind some of Victoria's most beautiful oceanfront mansions and residences, from Oak Bay to the Saanich Peninsula. Key project features include:
Flash based "Ken Burns" style slider
Home Page slider changes if flash no detected (iphones, etc)
Collaboration with McNamara Communications
WordPress based CMS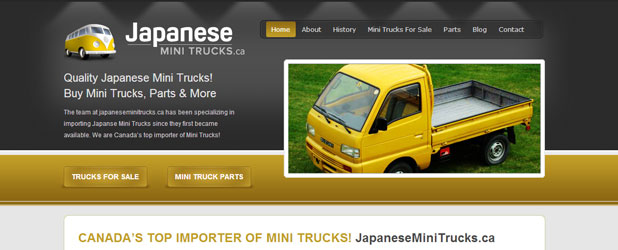 Japanese Mini Trucks
Japanese Mini Trucks is Canada's #1 importer of Japanese Mini Trucks. Based on Regina with key locations in Victoria and beyond, they import, modify and distribute more Mini Trucks than anyone else. Key project requirements and solutions:

Custom back end allowing automated upload of new vehicles, including mileages, price, etc.
WordPress based CMS
Search of mini trucks based on common vehicle information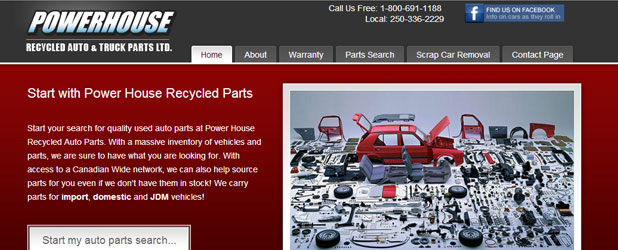 Power House Auto Parts
Based in Cumberland, BC , Power House Recycled Auto Parts is one of the North Islands largest automotive recyclers. They provide a large amount of additional services including bin rentals, drywall installation and scrap vehicle removal. Key website development features include:
Search integration with "car-part" recycler software
WordPress based CMS
Spam free contact form
Social Media Integration