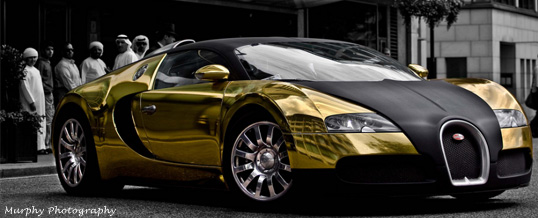 9 creative and amazing vehicle wraps
The possibilities for being creative with vehicle wraps is endless. We've compiled a Top 9 list of vehicle wraps to help inspire you. At theSignPad we can produce high quality and stunning vehicle wraps for business or personal vehicles.
These vehicle wrap examples serve as a way to help you understand what can be done with vehicle graphics in general. Although implementing some of these particular wraps can be costly, one must consider where, when and how they plan to engage potential customers. Feel free to ask a SignPad staff member questions if you are thinking about a vehicle wrap
Let's get started with a Top 9 list of vehicle wraps.
# 9- National Geographic "Shark" Wrap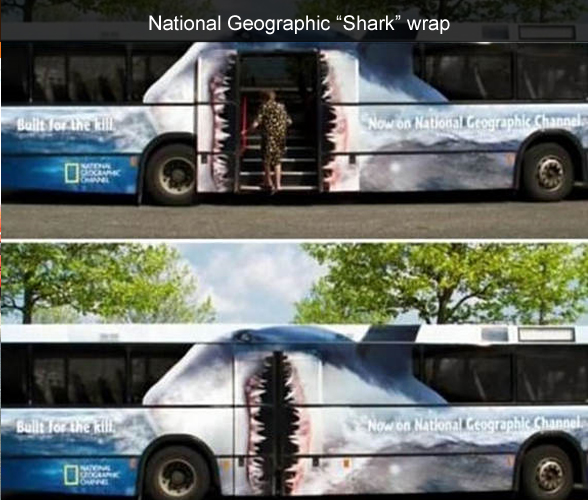 This wrap is a creative use of the movement from the rear entry door. Used as a promotion for the new National Geographic Channel, the sheer size of this wrap is enough to catch most people's eye. When looking at vehicle wraps for you, we can decide if there are any unique moving parts which could provide you with a little "extra".
#8 – Chrome Mercedes SLR Vehicle wrap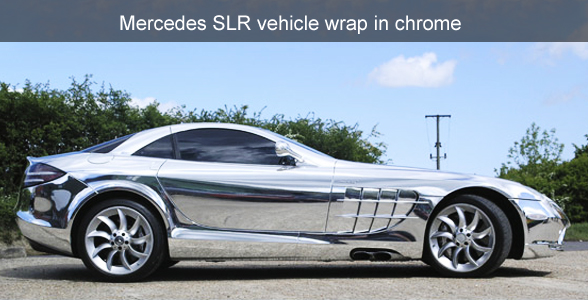 The use of chrome wraps on exotic vehicles has recently come to light in other parts of the world. Although most vehicles would not have the use for an entire chrome wrap, chrome highlights can certainly be an option for your particular vehicle wrap.
#7 – Pro Eye Vehicle Wrap
Pro Eye visual productions used the natural lines of the vehicle to accent the design of the wrap itself. In addition, using contrasting colors such as black and orange make the design stand out. The overall appearance of the wrap is simple yet eye catching.
#6 – X-Ray Mini Cooper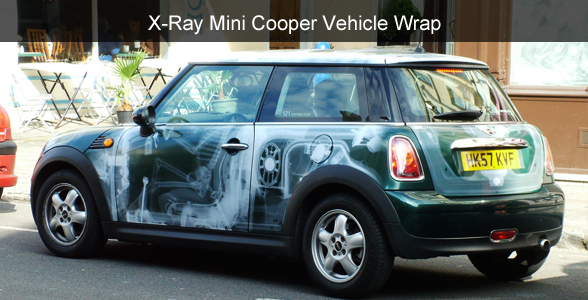 Since their launch in 2001, the Foxtons fleet of branded Minis have become iconic in London's culture. Each year they incorporate a new design onto the Mini. This particular x-ray branded mini design is a resourceful use of the Mini Layout, whilst also creating a talking point for casual observers.
#5 – Surf Paradise Hummer Wrap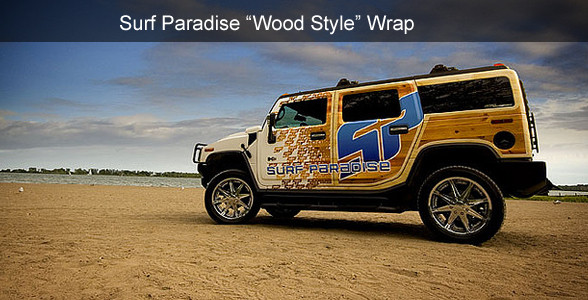 Using textures on wraps can be of great advantage. Not only is the possibility of different textures endless, but you can also change the overall theme and message of your wrap. Creating "rustic" or "future" themes through the use of different textures can be accomplished with a little bit of thought.
#4 – Dallas Mustang Truck and Trailer Combo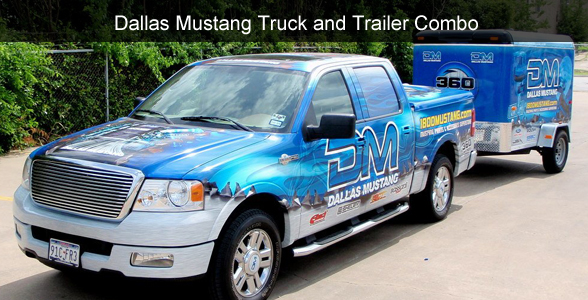 This elaborate vehicle wrap combination for a truck and trailer certainly demands attention. Plenty of landscaping and construction companies haul a secondary trailer, which can be just as effective in wrapping as the primary vehicle. In combination, the possibilities are endless.
#3 – FedEx delivering UPS trucks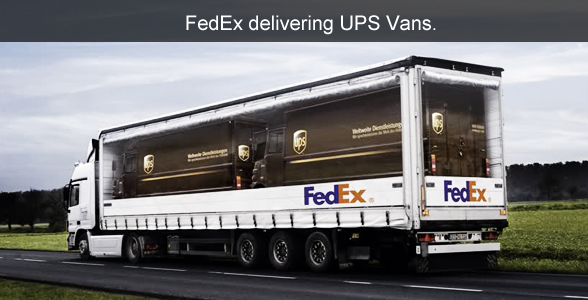 This controversial vehicle wrap caught the eye of plenty passing motorists. Although the technique required to apply this wrap is not complex in nature, the idea behind the wrap is simple and effective. You can't help but have a laugh at UPS's expense.
#2 – Gold wrap on Bugatti Veyron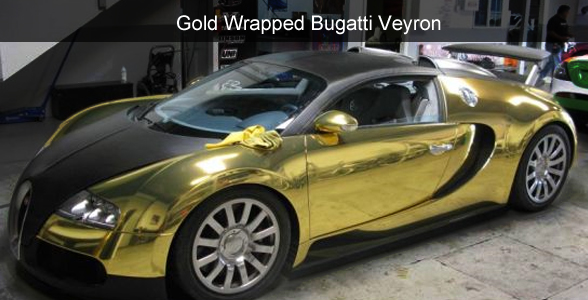 Known for being one of the greatest super cars of our time, this Bugatti Veyron received a "gold" wrap. Using a similar style to the #8 listing of going all chrome, this Bugatti Veyron has gold accents to help create an even greater allure than it already has.
#1 – Copenhagen Zoo "Snake" Bus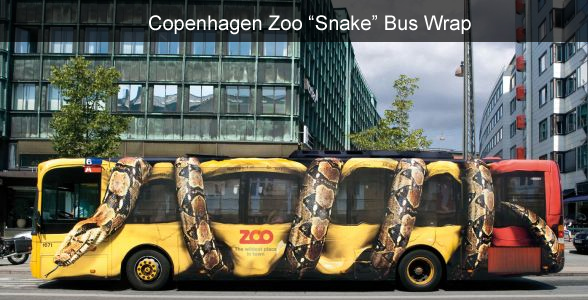 Finally, our #1 vehicle wrap. This is by far one of the most creative and unique examples of a vehicle wrap to-date. It would surely be hard not to take extreme notice of this wrap amongst traffic, especially for the ophidiophobes amongst us! This also has the added benefit of creating "buzz" amongst the locals, which in turn helps stir up business and new customers.