Chrome Wrap hits front page of the Times Colonist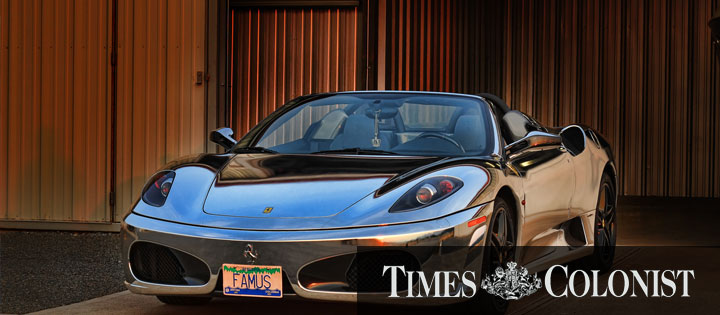 This wrap went viral! This wrap was featured on the front page of the Times Colonist and even made the top 5 stories of 2014 on the Times Colonist website. To this day we still get tons of customers and clients asking us about the Chrome Wrapped Ferrari. We were asked by a local business owner to come up with something super flashy for his new Ferrari F430. Attila always wants to do something unique, so we said why not go chrome? The end result was an absolutely stunning full wrap on this F430 in a chrome vinyl material. Want to find out more about this stunning wrap? View our blog post or View the Times Colonist article here.
Our Clear wrap featured in Sign Builder Magazine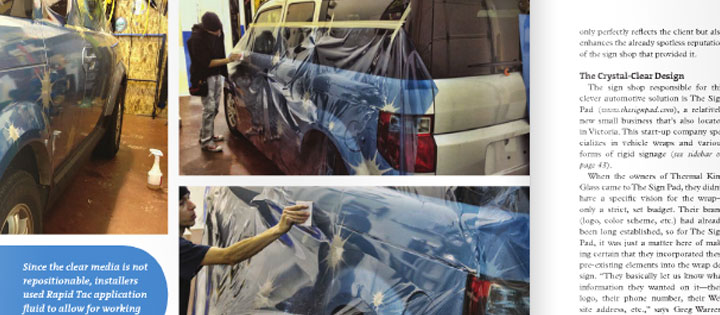 If you've followed The Sign Pad, you would know we're all about doing things first. We were challenged by the owners of a local glass company to use their new vehicle but to somehow keep the sparkle / flake from the paint. We came up with a slick idea of using a transparent media and reverse printing their blue company colors. This also makes for a tougher installation, as the entire thing needs to be wet applied using a special fluid. Want to get the details on how this was done? View the full article here.
New Business of the year Award 2013 for Vancouver Island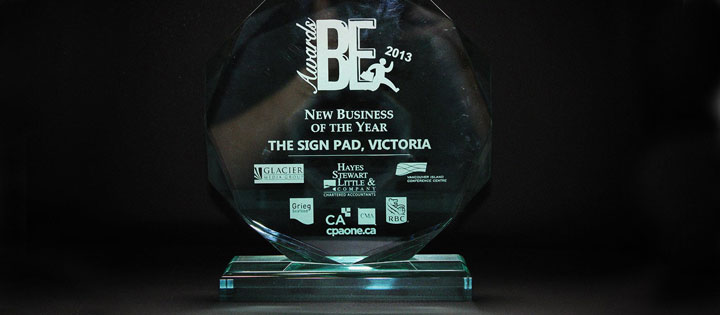 We are honored to have received the Best New Business of The Year award for all of Vancouver Island. We take great pride in producing high quality work for all of our clients. It's truly wonderful to have the community recognize the level of effort and detail we put into our business and our products / services. Receiving this award has been due to the effort of all our staff. From the quality of our designs to the detail our vehicle wrap installers put into every wrap. Without our team behind us, this wouldn't have been possible. It was a huge event (Over 300 people), with a packed house at the Nanaimo Convention Center. Congratulations to all the other nominees and winners!
2012 New Business Excellence Award – Westshore Chamber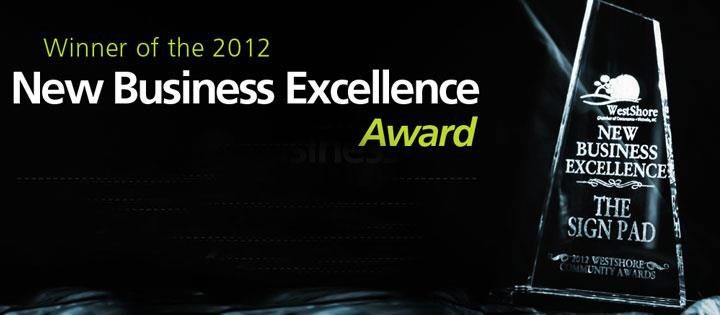 Half-way through our first year in business and already lucky enough to receive an award for Outstanding Business Excellence. We received the award for New Business Excellence from the Westshore Chamber of Commerce. We took part in a fabulous awards and dinner ceremony at Royal Colwood Golf course. With a major turnout from local business owners and residents alike, we were presented the award. A huge thanks goes out to our staff who have come on board as we grow and have been an instrumental part in our success. This award is recognition of all of their hard work!