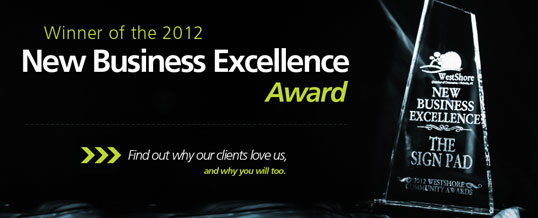 Winner of the "New Business Excellence" Award for 2012
We are extremely honored to have received the "New Business Excellence" award for 2012 from the Westshore Chamber of Commerce. The awards were given out on September 28th at the Royal Colwood golf course at a formal dinner event. It was a great event with many local business leaders present. There were a large amount of other fabulous business owners who received award ranging from Business of the year to "Outstanding customer service". The award for New Business Excellence is given to a company the best demonstrates the following:
[box type="shadow"][dropcap]T[/dropcap]his award is for a business of 5 years or less in operation that is thriving and contributing to the overall WestShore community. They have demonstrated business excellence through superior customer service and commitment to quality. They take action towards environmental responsibility and have an active role in the community with charitable involvement or volunteering.[/box]
It hasn't even been a full year since we first opened the doors here at the Sign Pad, and already we're beginning to see our vision coming to life. Our vision is to be more than "just another sign shop", but rather a well rounded marketing and design hub where you can get nearly everything your business needs to grow. From solid marketing advice, to Victorias best designs, vehicle wrap installations and impacting websites.
As huge thanks to our staff members who have worked so hard to help us achieve this award. They are surely the reason behind the success of the Sign Pad so far, and will certainly be the reason going forward. Also another big thanks to all the business and individuals who nominated us for this award 🙂