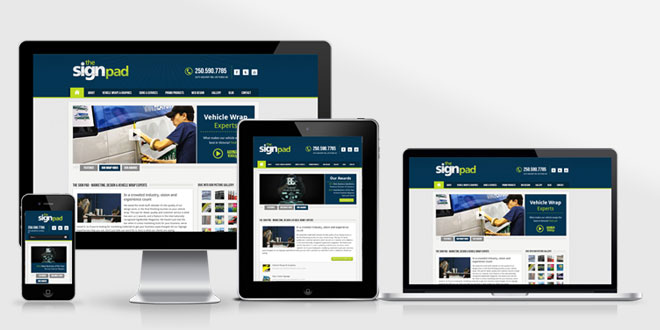 The Sign Pad Version 2 – New website launched!
We are extremely excited to announce the launch of our new website. The new site has a whole new list of features, most notably a fully responsive design which scales to your device (Phone, Tablet, Laptop, Desktop, etc). We often consult with our clients, and recommend that once your mobile visitors reach between 15-20% that it is time to think responsive. The numbers for The Sign Pad site indicated that we were getting closer and closer to that 15% mark with every month. This was part of the reason we decided to update!
Here is a quick list of some features on the new site:
Fully responsive design that scales to your phone, tablet, desktop, etc
Refreshed content on nearly all pages
A cleaner and more user friendly user experience, allowing you to get to the good stuff faster
Updated picture galleries
Raising the bar and setting the standard
If you are already a customer of The Sign Pad, you'll know "Good" doesn't cut it. We are always looking for ways to raise the bar, both for our own marketing and our clients. We had received great feedback from our clients about the previous site, which is why we know you'll fall in love with the new one. The new site is designed and structured in such a way that allows us to more easily update content, and to keep things fresh with updates.
Understanding where things are going
We pride ourselves on understanding where trends are heading, and where our customers can best direct their marketing efforts and resources. One of the biggest frustrations can be looking for quick contact information or other important data while surfing from a mobile phone. It's all in the details. Things like allowing your users to click a phone number and automatically dial the listed number. These subtle differences are what makes a great mobile user experience, and these features are what have been implemented in our new site design.
Feeling inspired?
If you have been on the fence about updating your own business site or portfolio and think now might be the time, give us a call or email.