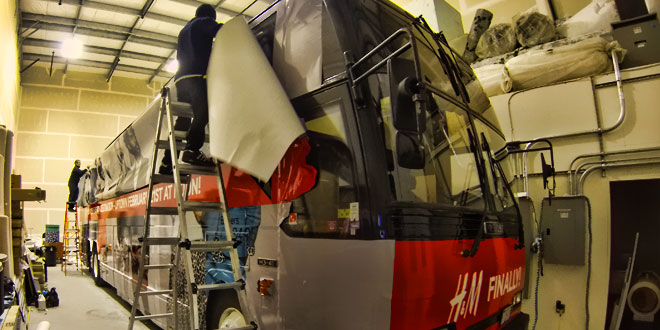 H&M Bus Wrap – A deeper look
When H&M made the move to Victoria, they were looking for an interesting way to garner attention and to get people to their new Uptown location. They contacted us in regards to having a full 41 ft Prevost bus wrapped. What they needed was a full wrap, with perforated windows so potential shoppers could see out while making the trip to and from the location. The results speak for themselves. An exceptionally well designed wrap showcasing a variety of their popular products and yet simple enough to draw in any passers by.
See the rest of our videos here
[divider]
Time Lapse Video
The video showcases us wrapping one side of the bus, so you can get an idea of how we lay out the panels, apply, cut in the vinyl, post heat and then lay down the window perforation. It's great to see normal every day wraps, but then again it's awesome to see a full bus wrap! Here a few snap shots from the time lapse video!
[divider]