Complete Business Stationery:
We offer everything you need for your blooming business. A complete and unified look to all of your printing and business stationery not only gives you a more professional appearance, but can be used as a more effective sales tool.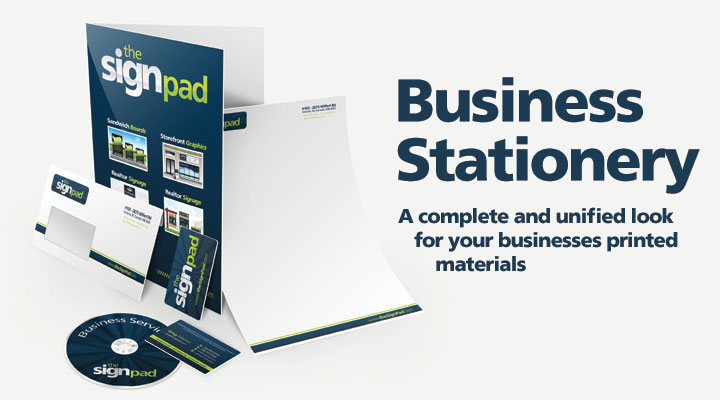 Business Cards:
A quality business card is something that will immediately set you apart from your competition. All our business cards are printed on super thick 16pt or 24pt card stock, ensuring that your business card is going to stand out from the rest. We offer cards in matte, luster or super gloss finishes, giving you more options to deliver a business card that packs a punch. We guarantee you and your customers will immediately notice the difference in quality with business cards from theSignPad.

Rack Cards:
One of the most simple and cost effective ways to display your business literature. From product information to promotional events, these are a cost effective way to deliver your message.

Folded Brochures:
We offer both tri-fold or single fold brochures. Ideal for when you need to display more information than can fit on a regular rack card.

Fliers & Posters:
We also print high quality posters and fliers in both large and small quantities. For promotional or informational material purposes, to event posters, we do it all.

Door Hangers:
Door hangers are an underutilized form of advertising that are very effective for certain kinds of businesses. Businesses that work on homes, or in neighborhoods (especially services) can benefit greatly from a door hanger. Ask yourself this question, if you have ever had a door hanger put on your door, did you at least look at it? Most likely yes. That can't be said for an email or advertisement in your mailbox.

We pride ourselves on being a full service printing operation, supplying your business with all the necessities to ensure flawless operation. We use the highest quality stock available on almost all of our print services.
In addition to our wide list print services, we also do the following:
Business Forms
Calendars
Business order forms
Coupons
Invoices & Letterheads
Pocket Folders
CD & DVD cases
Business Letters
..and much much more…