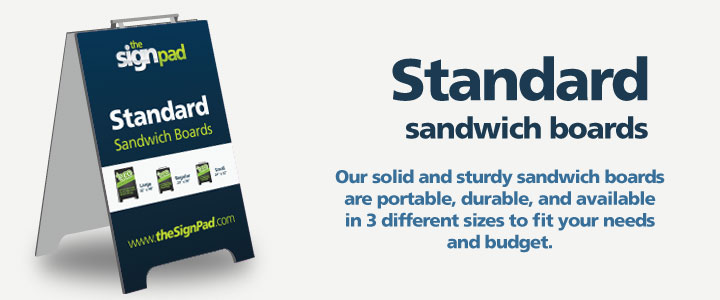 Sandwich boards are one of the most cost effective and versatile ways to get your marketing or message across. They can easily be placed on sidewalks, boulevards or street corners to advertise everything from businesses and open houses to construction sites and directional signage. There are many options available to customize a sandwich board to better suite your requirements.

We have all sizes shown in our showroom so you can get a great first hand idea of the size that will fit your requirements.
Customization and Additions:
Reflective Vinyl to add extra visibility to your signage in the winter months and at night.
Dry Erase or Chalkboard additions to allow easily changeable message
Slider systems to add changeable message functionality
Feet protectors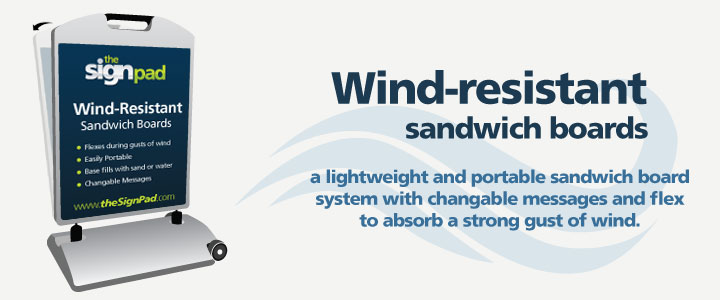 If your business is in a particularly windy area, or you just want the ability to "set it and forget it", then our wind resistant sandwich boards are what you need. These lightweight and portable sandwich boards have some great features over our standard sandwich boards:
Wind resistance against strong gusts. No more damaged sandwich boards
Pre-build messages that can be easily swapped in & out in seconds
Attractive and stylish design.
Our easy change sandwich boards are a great alternative if you need more flexibility than our standard sandwich boards offer. These lightweight and portable frames, have an opening that allows you to pre-build signs that can easily be changed in seconds.
Change your messages in seconds (have prebuilt specials or promos each day of the week)
Lightweight frame can be transported by anyone