New Business of the year Award 2013 for Vancouver Island
We are honored to have received the best new business of the year award for all of Vancouver Island. We take great pride in producing high quality work for all of our clients. It's truly wonderful to have the community recognize the level of effort and detail we put into our business and our products / services. Receiving this award has been because of the effort of all of our staff. From the quality of our designs to detail our vehicle wrap installers put into every wrap. Without our team behind us, this wouldn't have been possible. It was a huge event (Over 300 people), with a packed house at the Nanaimo Convention Center. Congratulations to all the other nominees and winners!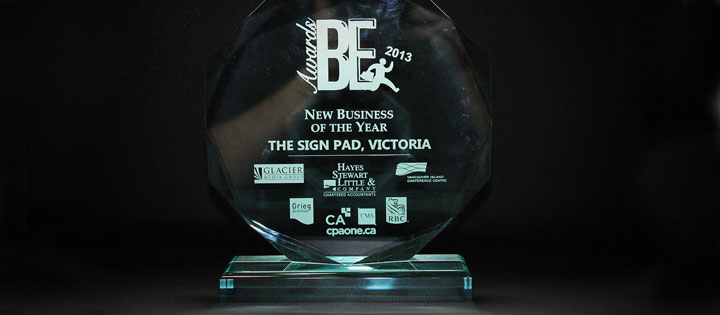 2012 New Business Excellence Award – Westshore Chamber
Half-way through our first year in business and already lucky enough to receive an award for outstanding business excellence. We received the award for New Business Excellence from the Westshote Chamber of Commerce. We took part in a fabulous awards and dinner ceremony at Royal Colwood Golf course. With a major turnout from local business owners and residents alike, we were presented the award. A huge thanks goes out to our staff who have come on board as we grow and have been an instrumental part in our success. This award is recognition of all of their hard work!